Only the goalkeeper or the acting goalkeeper (AGK) may legally play any ring that is on the goal crease line or entirely inside the goal crease. Alternately, neither the goalkeeper nor the AGK may move a ring into or onto the goal crease when it is entirely outside of the goal crease.
If either of these rules are broken, play is stopped and the ring is given to the non-offending team.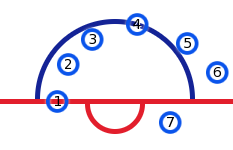 In the above image rings 1-5 may only be played by the goalkeeper. Rings 6 and 7 may be played by any player, but the goalkeeper may not bring the ring inside the crease.
Source: NOCP Rules Supplement & Ringette Canada Official Rules
News
The Eastman Ringette Association is very pleased to announce that a U16A team, the Eastman Heat, will represent Eastman in the Winnipeg Ringette League during the upcoming 2016/17 Ringette season. The team will be co-hosted by the Springfield and Lorette Ringette Associations. For more details, click on the following link.
https://eastmanringette.gameonmanager.com/files/News/Eastman%20Heat%20ad.pdf
The Eastman U16AA Flames are Provincial champs! The Flames won the Provincial title today defeating the U16AA Angels 5 to 4 in overtime. The Angels rallied from two, two-goal deficits during today's game to tie it twice and send it into ovetime. The Flames won the best-of-three seires two games to none - each game only being won by one goal. Both games were hard-fought victories by the Flames who were matched against a very talented and determined Angels team.
The Flames were neck and neck with the Angles during the regular season; each team finishing the season with the same number of points. The Flames were awarded first place after a second tie breaker and received a bye for the first round of the Provincial playoffs. The Flames will now be "Team Manitoba" in the U16AA division at the upcoming 2016 National Ringette Championships in London, ON during April 3 to 9. The U16AA Angels will also be competing in the National Ringette Championships so Ringette fans in Manitoba can take comfort in the fact that the province will be represented by two very skilled teams.
GO FLAMES, GO!
October 2016
s
m
t
w
t
f
s

1

2

3

4

5

6

7

8

9

10

11

12

13

14

15

16

17

18

19

20

21

22

23

24

25

26

27

28

29

30

31
Standings