"A ring on or touching the blue line is simultaneously in both of the zones bounded by that line and is playable by all eligible players."
When the ring is on or touching the blue line, nearly any player may play the ring and carry it into either zone. The player who last touched the ring may only carry the ring back into the zone where they last touched it, or they can tap the ring to pass it into the other zone.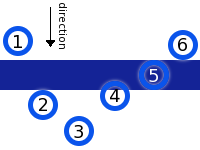 In the image above, the player who last touched the ring may only shoot or pass rings 1,2,4,5 or 6 into the next zone. They may not play ring 3. Any other player may carry rings 2,4,5 & 6 into either zone, and can play rings 1 & 3 normally.
Source: Official Rules and NOCP Rules Supplement
News
The Eastman Ringette Association is very proud to acknowledge that our very own Danielle Hildebrand (Hobday) was recently inducted into the Ringette Canada Hall of Fame. Danielle began playing in Eastman as a first year U19. During her first year, Danielle was coached by Leon Morrisette who convinced her to give up her Angel affiliation and become a Flame. Danielle participated in several National Championships where she selected to four National All Star teams. At age 16, Danielle began coaching AA with her father, Barry Hobday, and Mike Carrier and continued to coach AA for about 10 years and was part of the coaching staff that won Eastman's only National Championship in 1997. Danielle played for the Canada's National team for 9 years and was instrumental in winning Canada's last world championship in 2002. Canada won that championship 3-1 and Danille scored goals 2 and 3. She was also selected to the 6 player all-star team as a forward. More recently, Danielle was head coach of the Team Manitoba for the Canada Winter Games team that were hosted in Whitehorse in 2007. Danielle is currently an assistant coach of the Canada's Junior National team.
Beausejour Ringers Preseason Fun Ringette Tournament
Friday Oct 20- Sunday Oct 22/17 (games start Friday afternoon in Garson and Sungro, then just Sungro for the rest of the weekend.)
4 games guaranteed
U10 B/C --regular play 5 on 5 (was originally going to be 3 on 3 but we have decided that would be too challenging for these young players this early in the season).
U12 B/C and U14 B/C – 3 on 3 play
$750/team
Deadline to register Oct 6/17
For more information or to register, contact Jamie Kowalchuk at jkowalchuk@highspeedcrow.ca
Eastman Ringette has their own email address now!
Please email Eastmanringette@gmail.com for any Ringette inquiries.
January 2018
s
m
t
w
t
f
s

1

2

3

4

5

6

7

8

9

10

11

12

13

14

15

16

17

18

19

20

21

22

23

24

25

26

27

28

29

30

31
Standings