Only the goalkeeper or the acting goalkeeper (AGK) may legally play any ring that is on the goal crease line or entirely inside the goal crease. Alternately, neither the goalkeeper nor the AGK may move a ring into or onto the goal crease when it is entirely outside of the goal crease.
If either of these rules are broken, play is stopped and the ring is given to the non-offending team.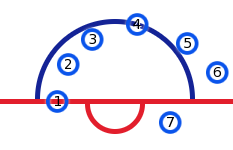 In the above image rings 1-5 may only be played by the goalkeeper. Rings 6 and 7 may be played by any player, but the goalkeeper may not bring the ring inside the crease.
Source: NOCP Rules Supplement & Ringette Canada Official Rules
News
This yeasr the Western Canadian Ringette Championships (WCRCs) were held in Winnipeg duirng March 23 to 25. Eastman was represented by the U14AA Flames and the U16A Eastman Heat. The Eastman Heat had a great tournament and finished with a bronze medal. The Eastman Heat also won two of the skills competition events (agility skating - M. Johnson and fastest skater - M. Uhryniuk) and the team title for the skills competition with the best overall score based on 4 events (agility skating, accuracy shooting, fastest skater and goalie). In addition to these accomplishments, M. Uhryniuk was also named to the U16A All Star team.
Although the U14AA Flames didn't medal, they played very well and lost a couple of close games. Their goalie (K. Davies) won the goalie skills competition and was named to the U14AA All Star team.
U16A Eastman Heat
Congratulations to both Eastman teams for a great season and a great WCRCs.
The Winnipeg Ringette League (WRL) playoffs concluded on Sunday, March 12 for another season. Eastman was well represented by 20 teams competing in 12 of the 14 loops that make up the U10 to U19 Divisions. Eastman teams did very well again this year caputring a total of 9 medals (5 gold and 4 silver). It is a tremendous accomplishment that 9 medals were won in 12 loops. A summary of the WRL playoffs medals won is provided below.
Eastman's Medal Tally at the WRL Playoffs
| | |
| --- | --- |
| U10A1 | Silver - Springfield |
| U10A2 | Gold - Lorette, Silver - Beausejour |
| U10A4 | Gold - Red River Rage |
| U12A1 | Gold - Springfield |
| U12A2 | Silver - Springfield |
| U14B | Gold - Red River Rage |
| U16B | Gold - Springfield |
| U19B | Silver - Red River Wild |
U14B Gold Medalists - Red River Rage
Congratulations to all the Eastman teams that competed in the WRL playoffs and good luck to those of you moving on to Provincials.
September 2017
s
m
t
w
t
f
s

1

2

3

4

5

6

7

8

9

10

11

12

13

14

15

16

17

18

19

20

21

22

23

24

25

26

27

28

29

30
Standings