"A ring on or touching the blue line is simultaneously in both of the zones bounded by that line and is playable by all eligible players."
When the ring is on or touching the blue line, nearly any player may play the ring and carry it into either zone. The player who last touched the ring may only carry the ring back into the zone where they last touched it, or they can tap the ring to pass it into the other zone.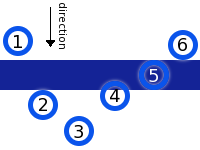 In the image above, the player who last touched the ring may only shoot or pass rings 1,2,4,5 or 6 into the next zone. They may not play ring 3. Any other player may carry rings 2,4,5 & 6 into either zone, and can play rings 1 & 3 normally.
Source: Official Rules and NOCP Rules Supplement
News
In support of Dad's, Grampa's and guys everywhere, the Eastman Royal Storm U14B team decided not to shave duirng the week of November 18th in recognition of Movember.
Congratulations to the Eastman Flames U14AA team who brought home the silver medal after competing in Wood Ringette Tournament held in Edmonton during November 23 to 25. The Flames were very strong in each of the four round robin games they played, went undefeated with a record of 3 wins and 1 tie, and finished first in their pool. Although the Flames lost in the gold medal game to a very good team from Calgary, they should be proud of how well they played against some of the best teams in Western Canada.
Eastman's U16A Heat team donned breast cancer jerseys during the BVRA pre-season tournament to help raise Breast Cancer Awareness. Off the ice, the players were busy soliciting donations from neighbours, family and friends to help in the battle against Breast Cancer! The team was able to raise $783 towards the fight!
Eastman's U16A Heat team was busy on Halloween but not for what most of us would think. Instead of trying to fill pillow cases with an assortment of Halloween goodies, they were busy collecting non-perishable food items in Lorette for the local food bank.
A big thank you to the U16A Eastman Heat team for giving back to the community and making a difference.
December 2018
s
m
t
w
t
f
s

1

2

3

4

5

6

7

8

9

10

11

12

13

14

15

16

17

18

19

20

21

22

23

24

25

26

27

28

29

30

31
Standings
manitobaintactnrl@gmail.com

Manitoba Intact NRL presents... INTACT FOR THE HOLIDAYS!




3 on 3 Tournament at Seven Oaks Arena - December 26th - 29th.

All Levels of Play Welcome (AA included) - Limited Space

U10&U12 Division

U14&U16 Division

$100 per player fee

Players may request 1 friend to play with and will be assigned to a team. Teams will be formed fairly, depending on age and level of play.

This fee includes...

- Manitoba Intact "Coach" on the bench for each game.

- 4 Game Guarantee! (full-ice, two 20 minute periods)

Round robin type play, consolation, playoff and championship game

- Manitoba Intact 3 on 3 Jersey to Keep!

DETAILS:

- Games will run approximately from 9:00am to 9:00pm on the Thursday and Friday, and 9:00am to 5:00pm on the Saturday; with the last two time slots on the Saturday dedicated to the Finals for both Divisions.

- Teams are guaranteed at least 1 hour breaks between games

- NRL Team Responsibilities: Coaching and Officiating


- Parent Responsibilities: 1 Time keeper and 2 gate openers required from each team


ON SITE:


50/50: winner will be drawn on the 29th, at the end of the day

Player Contest: Players who get all Intact athletes autographs on their jersey will be entered to win some Intact Merchandise!




Please Contact Nicole Desrosiers for registration

Email: manitobaintactnrl@gmail.com

Phone/Text: (204) 250-5812













tambakis@shaw.ca

U12B and U12C




Keira's Winter Klassic is a charity ringette tournament sponsored by SJRA.




100% of proceeds go to Manitoba Cancer Care.




Last year we raised over 38,000 in one day!




This year we have expanded the tournament over the full weekend.




Indoors this year!




Keith Bodley arena in Westwood




8 teams, $700/ team. 3 game guarantee.




Please contact Trista Tambakis at tambakis@shaw.ca or text to