Only the goalkeeper or the acting goalkeeper (AGK) may legally play any ring that is on the goal crease line or entirely inside the goal crease. Alternately, neither the goalkeeper nor the AGK may move a ring into or onto the goal crease when it is entirely outside of the goal crease.
If either of these rules are broken, play is stopped and the ring is given to the non-offending team.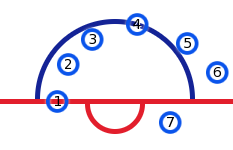 In the above image rings 1-5 may only be played by the goalkeeper. Rings 6 and 7 may be played by any player, but the goalkeeper may not bring the ring inside the crease.
Source: NOCP Rules Supplement & Ringette Canada Official Rules
News
Eastman's U16A Heat team was busy on Halloween but not for what most of us would think. Instead of trying to fill pillow cases with an assortment of Halloween goodies, they were busy collecting non-perishable food items in Lorette for the local food bank.
A big thank you to the U16A Eastman Heat team for giving back to the community and making a difference.
The annual Eastman Flames AA tournament is over for another season. Both Flames teams (U14AA and U16AA) medaled during the tournament. The U14AA Flames had a very strong showing during the tournament and finished second in round-robin play. During the medal round, the U14AA Flames faced the Buffalo Plains Rush and were victorious bringing home the gold medal.
The U16AA Flames also had a strong showing during the tournament and finished second after round-robin play. During the semi-finals, the U16AA Flames lost to the eventual gold medal winning Angels team in a close game. During the medal round, the U16AA Flames faced the Wild team whom they had lost to during round-robin play. The Flames had a very strong game and ended up winning the bronze medal.
Congratualtions to both Flames AA teams for having a successful tournament and good luck during the upcomng AA season.
Eastman will be hosting minor officials clinics in Beausjeour on September 16th and October 20th. A time/scorekeeper clinic has been scheduled for September 16th from 09:00 a.m. to 12:00 p.m. Participants can register for the time/scorekeeper clinic using the following link:
https://mbringette.wufoo.com/forms/zsglpjf042k5pq/
A shot clock operator clinic has been scheduled for October 20th from 09:00 a.m. to 1:00 p.m. Participants can register for the shot clock operator clinic using the following link:
November 2018
s
m
t
w
t
f
s

1

2

3

4

5

6

7

8

9

10

11

12

13

14

15

16

17

18

19

20

21

22

23

24

25

26

27

28

29

30
Standings