If the ring contacts or enters the goal crease while the shooter's stick is in the ring and the ring subsequently crosses the goal line - the goal is not counted; because a crease violation has occurred.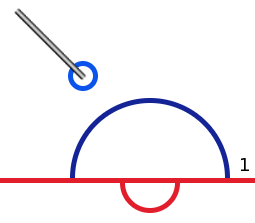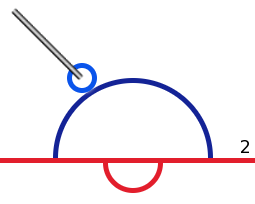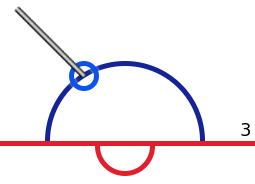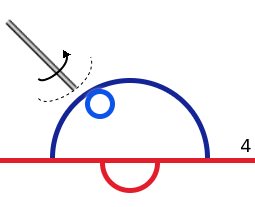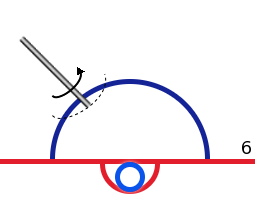 In the above examples - only 1, 4, 5 and 6 are LEGAL shots on goal.
* Other situations can cause a goal to be nullified. Please see the Ringette Canada Official Rules 10.3 A goal is nullified...
Source: NOCP Rules Supplement & Ringette Canada Official Rules
News
Congratulations to Eastman U19 players Milica Oravec, Belle Paisley, and Josee Roy who were selected to represent Manitoba at the 2019 Canada Winter Games. All of Eastman is very proud of your dedication and determination and we look forward to you competing in the upcoming games taking place in Red Deer, AB from February 15th to March 3rd.
The 2018 Canadian Ringette Championships were hosted by Winnipeg during April 9th to 14th. Manitoba was well represented with 4 teams at U16AA, 3 teams and U19AA and one team in the NRL. Round robin games were played at either the Bell MTS Iceplex or the Seven Oaks Arena with the medal games played at Bell MTS Place.
At U16AA, the BVRA Angels were crowned national champions with the other 3 Manitoba teams finishing no better than 12th. At U19AA, Manitoba had a tremendous showing. The BVRA Angels won silver, the Eastman Flames won bronze and the Magic finished in 6th place. At the NRL division, the Manitoba Intact finished in 8th place.
Congratulations to the Eastman Flames for an amazing CRCs.
Eastman teams had amazing success in the WRL playoffs winning a total of 16 medals in the various age divisions. The following is a summary of Eastman's tremendous achievement:
U10 - 3 gold medals, 2 silver and 1 bronze
U12 - 1 gold, 1 silver and 1 bronze
U14 - 1 gold, 1 silver, 1 bronze
U16 - 1 silver
U19 - 1 gold
Open - 2 bronze
Congratulations to the players and coaches for their success in the WRL playoffs.
Team South won gold at the Manitoba Winter Games held in Thompson earlier this the month. Team South had five Eastman players and was coached and managed by an all Eastman bench staff. The team had a perfect 5 - 0 record in round robin play and won gold with an 8 - 4 victory. The team was coached by Katie Schoenborn - Head Coach (U16 A Eastman Heat), Catherine Lemoine-Courcelles - Assistant Coach (U16A Eastman Heat), Brooke Enns - Assistant Coach (U19AA Eastman Flames) and managed by Tara Ratz (Lorette Ringette).

Pictured left to right are: Emily Palmer (Steinbach Panthers) Taylor Ratz (Lorette Royals) Rhyan Beardy (Red River Rage) Trista Rempel (Steinbach Panthers) Jaiden Huberdeau (Lorette Royals) Hailey McWilliams (Red River Rage)
Pictured below is Team South with their gold medals.
Congratulations to all the Eastman ringette players who particiapated in the MWGs and also played on Team East, Team West and Team North.
September 2018
s
m
t
w
t
f
s

1

2

3

4

5

6

7

8

9

10

11

12

13

14

15

16

17

18

19

20

21

22

23

24

25

26

27

28

29

30
Standings