"A ring on or touching the blue line is simultaneously in both of the zones bounded by that line and is playable by all eligible players."
When the ring is on or touching the blue line, nearly any player may play the ring and carry it into either zone. The player who last touched the ring may only carry the ring back into the zone where they last touched it, or they can tap the ring to pass it into the other zone.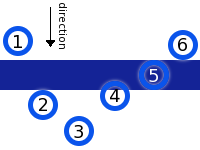 In the image above, the player who last touched the ring may only shoot or pass rings 1,2,4,5 or 6 into the next zone. They may not play ring 3. Any other player may carry rings 2,4,5 & 6 into either zone, and can play rings 1 & 3 normally.
Source: Official Rules and NOCP Rules Supplement
News
Eastman Heat U16A Tryouts
The Eastman Ringette Association will be hosting the Eastman Heat U16A team for the 2018/18 season. Tryouts for the Eastman Heat U16A team will consist of 1 skills ice session and 2 scrimmage ice sessions. The cost for the tryouts is $85.00. If paying by cheque please make cheque payable to Eastman Heat Ringette. A pre-tryout skate will be held in Landmark on Monday, September 3rd at 7:15 p.m.
The tryouts will be held at the Landmark Arena as follows:
Thursday, September 6th at 5:45 p.m.
Saturday, September 8th at 6:45 p.m.
Wednesday, September 12th 8:15 p.m.
U19A Tryouts
The Transcona Ringette Association has amalgamated with the Eastman Ringette Association and will be hosting a U19A team for the 2018/19 season. The cost for the tryouts is $75. Pre-tryout skates will be held at East End Arena on Monday, September 3rd at 6:30 p.m., Tuesday, September 4th at 8:45 p.m., and Thursday, September 13th at 9:15 p.m. The cost of each pre-tryout skate will be $15.
The tryouts will be held at the East End Arena as follows:
Saturday, September 15th at 8:30 p.m. (Rink 1)
Sunday, September 16th at 7:45 p.m. (Rink 1)
Tuesday, September 18th at 8:15pm (Rink 3)
Ringette Manitoba is looking for of some high energy dynamic Ringette players who are interested in becoming Player Development Instructors to share their love of the game with all of the younger Ringette players in Manitoba!
Ringette Manitoba's Player Development Instructor Clinic will certify you to work at all Ringette Manitoba camps and clinics during the season including Intro2Ringette, our Player Development Academy, as well as the Ringette4U Program and Come Try Ringette Events.
You must be 16 or turning 16 by December 31st, 2018 to register for the clinic. There will be no exceptions.
WHEN: Tuesday August 14th and Thursday August 16th
After the completion of the clinic, you will be required to shadow a Level 4 Instructor for one ice time, complete five Level 1 Hours* and receive a satisfactory evaluation before becoming a Level 2 Instructor. The starting pay for a Level 2 Instructor is $20.00/hour
*Level 1 Hours are training hours; therefore you will not be paid for this time, as it is part of the requirement of the clinic.
WHERE: East End Arena. Please bring skates and a helmet (without cage) on the 16th.
TIME: 5:30pm-9:30pm both days
COST: $90.00 plus GST (includes on-ice instructor softshell jacket. (Please keep in mind when selecting your jacket size that you will likely need to wear a sweatshirt under you Instructor jacket). This is a ladies cut jacket. A Jacket Size chart can be found here .
Refunds will only be honored if the request is accompanied by a doctors certificate. There will be a 25% admin fee on all refunds.
REGISTRATION DEADLINE: Friday June 29th, 2018.
*LIMITED SPACE AVAILABLE!
Congratulations to Eastman U19 players Milica Oravec, Belle Paisley, and Josee Roy who were selected to represent Manitoba at the 2019 Canada Winter Games. All of Eastman is very proud of your dedication and determination and we look forward to you competing in the upcoming games taking place in Red Deer, AB from February 15th to March 3rd.
The 2018 Canadian Ringette Championships were hosted by Winnipeg during April 9th to 14th. Manitoba was well represented with 4 teams at U16AA, 3 teams and U19AA and one team in the NRL. Round robin games were played at either the Bell MTS Iceplex or the Seven Oaks Arena with the medal games played at Bell MTS Place.
At U16AA, the BVRA Angels were crowned national champions with the other 3 Manitoba teams finishing no better than 12th. At U19AA, Manitoba had a tremendous showing. The BVRA Angels won silver, the Eastman Flames won bronze and the Magic finished in 6th place. At the NRL division, the Manitoba Intact finished in 8th place.
Congratulations to the Eastman Flames for an amazing CRCs.
January 2019
s
m
t
w
t
f
s

1

2

3

4

5

6

7

8

9

10

11

12

13

14

15

16

17

18

19

20

21

22

23

24

25

26

27

28

29

30

31
Standings