If the ring contacts or enters the goal crease while the shooter's stick is in the ring and the ring subsequently crosses the goal line - the goal is not counted; because a crease violation has occurred.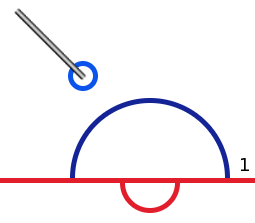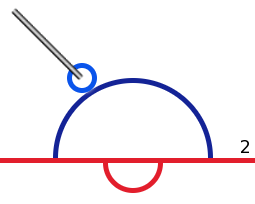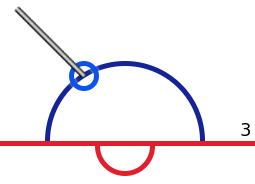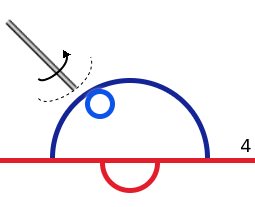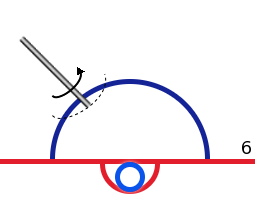 In the above examples - only 1, 4, 5 and 6 are LEGAL shots on goal.
* Other situations can cause a goal to be nullified. Please see the Ringette Canada Official Rules 10.3 A goal is nullified...
Source: NOCP Rules Supplement & Ringette Canada Official Rules
News
In support of Dad's, Grampa's and guys everywhere, the Eastman Royal Storm U14B team decided not to shave duirng the week of November 18th in recognition of Movember.
Congratulations to the Eastman Flames U14AA team who brought home the silver medal after competing in Wood Ringette Tournament held in Edmonton during November 23 to 25. The Flames were very strong in each of the four round robin games they played, went undefeated with a record of 3 wins and 1 tie, and finished first in their pool. Although the Flames lost in the gold medal game to a very good team from Calgary, they should be proud of how well they played against some of the best teams in Western Canada.
Eastman's U16A Heat team donned breast cancer jerseys during the BVRA pre-season tournament to help raise Breast Cancer Awareness. Off the ice, the players were busy soliciting donations from neighbours, family and friends to help in the battle against Breast Cancer! The team was able to raise $783 towards the fight!
Eastman's U16A Heat team was busy on Halloween but not for what most of us would think. Instead of trying to fill pillow cases with an assortment of Halloween goodies, they were busy collecting non-perishable food items in Lorette for the local food bank.
A big thank you to the U16A Eastman Heat team for giving back to the community and making a difference.
September 2018
s
m
t
w
t
f
s

1

2

3

4

5

6

7

8

9

10

11

12

13

14

15

16

17

18

19

20

21

22

23

24

25

26

27

28

29

30
Standings