"A ring on or touching the blue line is simultaneously in both of the zones bounded by that line and is playable by all eligible players."
When the ring is on or touching the blue line, nearly any player may play the ring and carry it into either zone. The player who last touched the ring may only carry the ring back into the zone where they last touched it, or they can tap the ring to pass it into the other zone.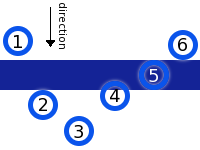 In the image above, the player who last touched the ring may only shoot or pass rings 1,2,4,5 or 6 into the next zone. They may not play ring 3. Any other player may carry rings 2,4,5 & 6 into either zone, and can play rings 1 & 3 normally.
Source: Official Rules and NOCP Rules Supplement
News
Congratulations to the Flames U14AA team who are provincial champions and will be heading to the Western Canadian Ringette Championships as Team 'Toba. Good Luck at Westerns.
In support of Dad's, Grampa's and guys everywhere, the Eastman Royal Storm U14B team decided not to shave duirng the week of November 18th in recognition of Movember.
February 2019
s
m
t
w
t
f
s

1

2

3

4

5

6

7

8

9

10

11

12

13

14

15

16

17

18

19

20

21

22

23

24

25

26

27

28
Standings