Only the goalkeeper or the acting goalkeeper (AGK) may legally play any ring that is on the goal crease line or entirely inside the goal crease. Alternately, neither the goalkeeper nor the AGK may move a ring into or onto the goal crease when it is entirely outside of the goal crease.
If either of these rules are broken, play is stopped and the ring is given to the non-offending team.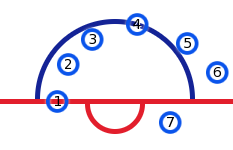 In the above image rings 1-5 may only be played by the goalkeeper. Rings 6 and 7 may be played by any player, but the goalkeeper may not bring the ring inside the crease.
Source: NOCP Rules Supplement & Ringette Canada Official Rules
News
Thanks to the many volunteer hours invested to make this happen!
2020/2021 Call for AA Coaches!
click on the link below:
https://mbringette.wufoo.com/forms/m1lzr9i10khklgc
Please be advised the call for coaches link has reopened with a few modifications.
AA Ringette in Canada has not yet resumed due to COVID-19 protocol adherence.
The Ringette MB office will be closed week of June 29th and re-opening virtually on July 6th
More details to follow in the coming weeks with respect to COVID -19 recovery protocols, coach training related to COVID 19 protocols.
The 2019/2020 Eastman Playoffs are in Full swing at the Oakbank One Insurance Arena this weekend! Teams from all over Eastman are participating from the U10 level all the way up to U19.
It's been an action packed weekend as the teams face each other in this Champoinship weekend. Some Medal games will be Sunday, and some Monday.
Thanks to the many volunteer hours that go into making this event a success every year, and all the best to the participating teams as they compete with sportsmanship and socialization.

November 2021
s
m
t
w
t
f
s

1

2

3

4

5

6

7

8

9

10

11

12

13

14

15

16

17

18

19

20

21

22

23

24

25

26

27

28

29

30
Standings